What is an accredited investor, and who can become one?
October 18th, 2022
Accredited investors are individuals or entities that either meet income/asset thresholds, or have a special status. It qualifies them to invest in privately offered investments. There is no formal process to register as an accredited investor.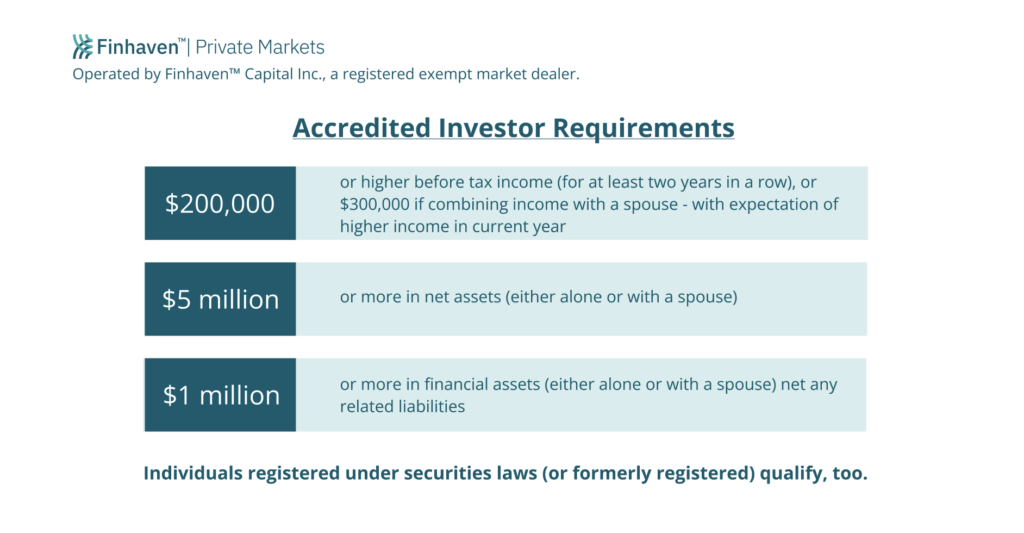 Individual Requirements: ​
In Canada, individuals who meet certain income or asset criteria can be classified as accredited investors.
$200,000 or higher before tax income (for at least two years in a row), or $300,000 if combining income with a spouse – with expectation of higher income in current year
$5 million or more in net assets (either alone or with a spouse)
$1 million or more in financial assets (either alone or with a spouse) net of related liabilities
Individuals registered under securities laws (or formerly registered) qualify, too.
There are many ways in which entities can qualify as accredited investors – too many to list. Here are a few:
An entity with $5 million in net assets (excluding investment funds).
A pension fund regulated by the Office of the Superintendent of Financial Institutions, a pension commission or a similar regulatory authority of a jurisdiction of Canada.
A registered charity under the Income Tax Act that has obtained advice from an eligibility adviser. Or, an adviser registered under the securities legislation of the jurisdiction of the registered charity to give advice on the securities being traded.
A trust established by an accredited investor for the benefit of the accredited investor's family members. The majority of the trustees must be accredited investors.
Become an investor on Finhaven™ Private Markets
Are you an accredited investor looking for unique deals in the real estate, mortgage, or entertainment sectors? Invest in vetted private deals with Finhaven™ Private Markets today.
Finhaven™ Private Markets is operated by Finhaven™ Capital Inc., a registered exempt market dealer and authorized marketplace and clearing agency in British Columbia, Alberta, Saskatchewan, Manitoba, and Ontario in Canada.