The Finhaven™ Investment Platform as a Service
The capital markets infrastructure can be quite complicated. Finhaven™ built a white-labeled Finhaven Investment Platform to solve this problem.
Are you a securities dealer or private issuer?
Finhaven delivers an easy-to-use, integrated virtual data room and stock administration solution.
The benefits of the Finhaven Investment Platform:
You can subscribe to one software to use solutions – virtual data room, stock administration, compliance (KYC, AML, ATF, ID verification), contract management and executions, and messaging 

The intuitive user interface enables creation of your data room

FINWallet™

 provides digital security self-custody services
Business solutions for transaction challenges all in one platform - from lead generation to closing

"The Finhaven Investment Platform is an end-to-end platform for security dealers. It checks all my checklists and goes beyond them."
– Mohammed Alhadi, Alawwal Properties Corp.¹
We will offer two types of services for our Finhaven Investment Platform: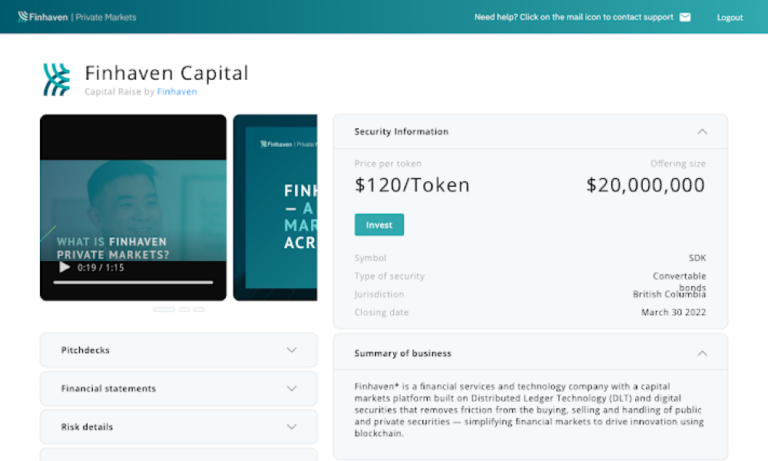 1. License the Entire Platform - For Dealers Only
Would you like to license our entire distribution platform for your dealer business? Finhaven can offer you an independent platform to integrate with your own IT infrastructure. Our system integration process results in a platform with your own branding and compliance adjustments important to your business.
The standard features are as follows, but additional functionality is available:
Investor onboarding

Issuer onboarding

Issuer Data Room for investors 

Messaging between issuers and investors

Compliance Dashboard

Investor wallet to track cash and store/track securities
Find out how the Finhaven Investment Platform is the ideal securities transaction solution for you.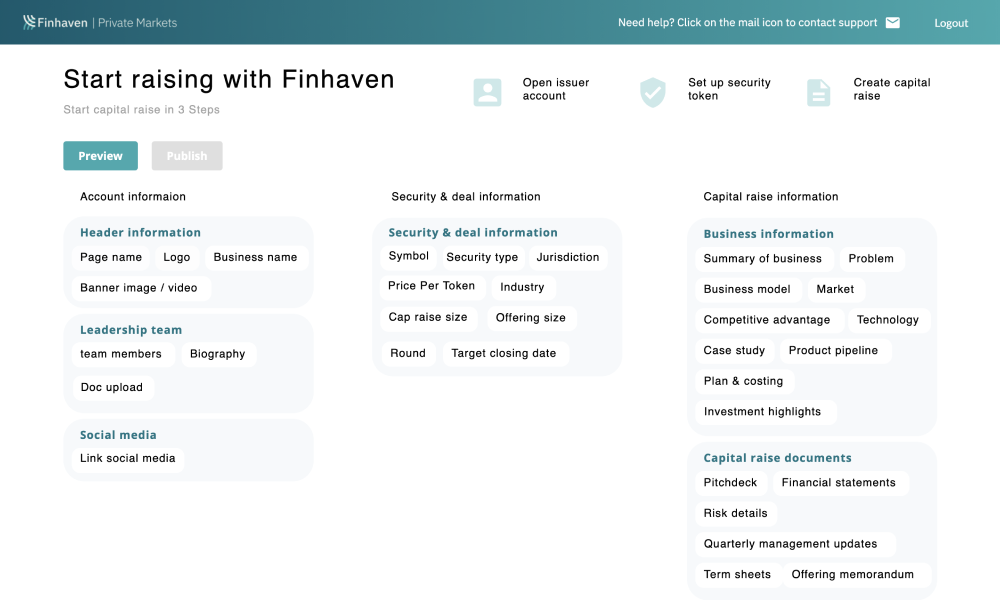 Are you looking for an all in one platform that allows: 
your customers to search for the latest private market deals?
you to chat with investors?
participants to make money transfers?
participants to sign agreements?
A subscription to the Finhaven Investment Platform will offer: 
Virtual Data Rooms
Stock Administration
Access to Direct Messaging 

Contract Management and Execution

Compliance Solution (KYC, AML, ATF, ID verification)
Record of truth is recorded on Blockchain
Pricing will depend on:
Storage
Number of shareholders
The features
Number of users
Learn more about a subscription to the Finhaven Investment Platform.
¹ Alawwal Properties Corp. is not a securities dealer; it raises capital through securities dealers.